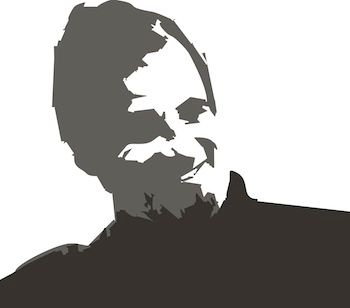 The musical theater for me remained fraught territory. In my younger years, I performed in precisely one musical—senior year of high school, the Gershwin showcase CRAZY FOR YOU, in the ensemble, with one sung solo line, "Use it like a tonic!" —and my only thorough exposure to "showtunes" prior to this came from an unhealthy obsession with the VHS recording of my siblings' second grade class's musical recital of Broadway standards, at least the standards fit for second graders to sing. Indian style, I'd plop on the carpet and watch and re-watch beautifully shouty renditions of "Tomorrow", "Consider Yourself", "76 Trambones", "All I Want Is a Room Somewhere", etc.; the naughtiest number I recall was "I'm Gonna Wash That Man Right Out Of My Hair", and even that rendition focused more on vigorous shampooing than anything else. This revue of songs had no context and was designed for photo-ready parents and bored elementary students alike. Still, my hungry six year-old ears longed to belt OKLAHOMA tunes, if only because it sounded so much fun.
For the many years between that love affair and now, I harbored both a yearning to sing those songs and a hearty dose of fear; by opening my mouth to belt the word, "Maria," the word "faggot" would tumble out of everyone else's. To enjoy the theater and especially musical theater was to be gay, even though, right now, I cannot for the life of me recall or fathom why this distinction is so completely stuck in our collective heads. I did CRAZY FOR YOU only when, you could say, I literally couldn't take it anymore. I subsequently let myself explore my interest in the theater only in plays, which, to my confused middle school mind, seemed like the "straightest" option. So from OUR MISS BROOKS in the seventh grade to splendid (and illegal) production of CLUE in college, I auditioned and acted in a few things, never fully committed, always resigned that this was something not to pursue to seriously, lest I be labeled a homosexual for life. (And I think I'm neurotic now…) Rest assured that in eventually saying, "Fuck it," to the closet, and to the rearrangement my life that ensued, I allowed myself to sprinkle "The Impossible Dream" into my shower set list. Once and a while, at least, and when I was alone.
Along with myself, perhaps I was fighting against the still dominant popular opinion that the American musical tradition is an inferior art form—crass, absurd, and naïve—an opinion voiced not only by those who despise it, but also sometimes by those who love it. ("Life is a cabaret!") There was the question I asked, often unconsciously: why do we view a love of musical theater forms and styles as (at best) anachronistic and (at worst) delusional in this day and age? In lieu of this and my embarrassment over my sexuality, or at least what people would infer about my sexuality through my interest in musical, it was very easy not to truly deal with musicals, the poetry and the magic they could contain; to love a song here and there, I could manage, but I was always to keep an arm's length.
Then I met Stephen Sondheim.
Or so the cliché goes. Still. Sondheim! I'm told there is a bit of the Kool-Aid factor to submitting fully to the work of Sondheim. ("Send in the Clowns" does not count.) To the uninitiated, the criticisms of his work, very broadly laid out: lyrics hemorrhaging wit; piercing intellect strangling whatever heart might exist in song-scene; cynicism; fatalistic avoidance of hummable melodies; obsessive reliance on point/counterpoint to obscure and underline every emotional beat; crotchety bastardism. But ah, underneath…
More than any other artist I've encountered in a great long while, Sondheim has focused on nothing less than achieving the perfect expression of his characters and their inner states through words and music, and their connection to the world around them. A meticulous formalist, obsessed in charting every song's precise emotional journey, he was achieved a body of work ringing with beauty and rage, the turmoil and grace of living. He's the type of artist you can write endless about and still never find the words, whereas, you can definitely say, Sondheim always has the right words.
The purpose of these next entries is to highlight some of my favorite songs in his canon. I still feel I've only skimmed the surface. My other painful admission: I've only seen one Sondheim show, when my high school did INTO THE WOODS, in a solid production (at least in my mind's eye); and when the Public did INTO THE WOODS for Shakespeare in the Park this summer, about which I'll refuse to comment.
In any case, these are the songs I've been living in for the past year, part one below, with at least one more part to come in the next few weeks.
IN BUDDY'S EYES (from "Follies")
Sweetness and optimism sitting like rocks in your belly. Sally wants a few things: to convince Ben she's happy, to convince herself she's okay (happy is too far out of reach from the opening line), to make Ben jealous (a fantasy), to sum up her withered life but not bore the man she really loves to death. Musically, I particularly love the bridge, with the melodic emphasis on words that, for all of Sally's fluttering, drive home her reluctance and acceptance: "And yes… / No… / Yes… / But…" As sung by Barbara Cook, the variations between the relative bombast of the first chorus and the smoothing balm of the last two speak volumes about the emotional life of this song. (It has to be mentioned there is a brief scene between young Sally and young Ben in place of this interlude, but even without the interlude, the song speaks for itself.) Of the last note, I'm reminded of a line from Angels in America: "The white cracker who wrote the national anthem knew what he was doing. He set the word 'free' to a note so high nobody can reach it." Where Sondheim asks Sally's voice and, conversely, the instruments to go cannot be reconciled, its distinct timbre cannot be reached, and no union of the heart and body can be achieved.
NOW, LATER, SOON (from "A Little Night Music")
In this sustained comic salvo, Sondheim lathers the libidinal confessions of Fredrik, Henrik, and Anne in lush, coiling music. The masterstroke lies in Sondheim observing their frisky longings through a bemused melodic lens: the alternating ascending and descending phrases in "Now," the lawyer Fredrik mirrored in the music's procedural approach to both his aborted seduction and his sexual frustration; the overwrought outpouring of "Later", hysterical vocal runs amidst plodding verses, angst at its most genuine and self-flagellating with dear ol' Henrik; the astonishing tempest of key changes in "Soon", delineating both Anne's sincere fear of consummation and her sporting, knowing attitude toward the chase ("You have to admit I'm endearing…"); and the climax, the melding of a trio with same curious woe: plagued by an intangible, primal anxiety that lies just beyond, "now," "later," and, "soon." If anything does begin, then what if it doesn't end?
I WISH I COULD FORGET YOU (from "Passion")
The structural conceit of PASSION—letters through song, driving virtually all of the action—creates unusually potent emotional friction. Here, the words "composed" by one character, candid in message and reflective in tone, create shifting perspectives and a rich interplay between text and subtext when sung by either the writer, the subject of the letter, the recipient, or some combination of the three. A declaration of love can sound bright coming from the writer but stained when read by the recipient, and visa versa. Tweak the sentiment, and the reverberations are endless. This choice, in context, makes PASSION both the densest and most direct of Sondheim's scores, and "I Wish I Could Forget You," among the most resonant songs in his canon. The pivotal scene: from her bed, Fosca dictates a letter to Giorgio, addressed to her and signed by him, sung by Fosca. Watch and have fun sifting through it.
Next up: "Another Hundred People", "Moments in the Woods", "Take Me to the World", and maybe one or two more.